Status: Operational
North Steads is a consented wind farm on the site of a restored former surface mine near Widdrington in Northumberland, approximately 20 miles north of Newcastle-upon-Tyne.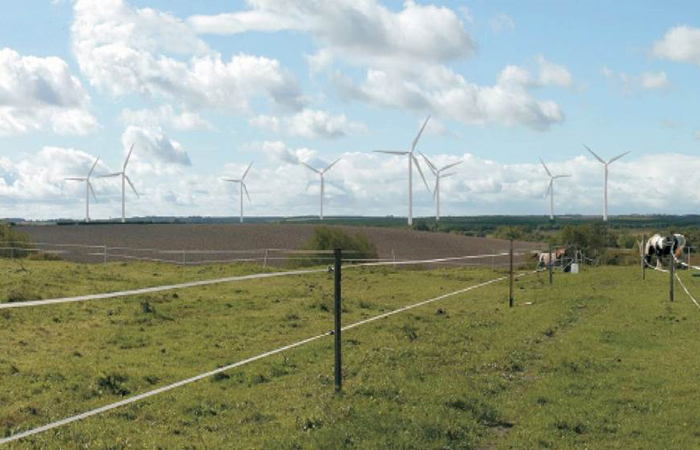 North Steads Wind Farm installed capacity is up to 18.5 MW of electricity, enough to power around 10,000 homes with low-carbon, renewable energy.
Peel Energy obtained planning permission for the wind farm from Northumberland County Council in April 2014, following an application made in January 2012.
The project was subsequently sold to Infinis who will constructed and now operate the wind farm alongside the adjacent Sisters Wind Farm.
Construction of the nine turbine site commenced in Summer 2015, and was operational before the end of 2016.
The original planning application was for thirteen turbines, which was reduced to the consented nine turbine scheme following consultation with local people, community groups and key stakeholders through the planning process.
The wind farm is located on the site of part of the former East Chevington (Maidens Hall / Steadsburn) opencast coal mine, which finished operating in 1991 and was restored to forestry and farmland in 2000. Six of the nine turbines are located within the forested area, with the remaining three in arable fields to the south.
The Benefits
Electricity for homes and businesses
Blue Sky Forest wind farm is predicted to generate enough electricity to meet the average needs of over 10,000 homes. The wind farm will be connected to the electricity network through underground cables without needing additional overhead power lines, and the electricity generated by the wind turbines will enter the local electricity distribution network for use in the local area.
Community and local benefits
An annual payment of £5,000 per MW, totalling over £92,000 each year, is provided by North Steads Wind Farm to fund community projects over the life of the scheme.
Email: energy@peel.co.uk
Or write to us at:
Peel Energy, Peel Dome, Trafford Centre, Manchester M17 8PL.